Soft and safe temperature test equipment for home care use, made in Japan
Measuring fever in the most flexible way 1. Flexible Tip 2. 15 seconds Prediction 3. 10 times Memory 4. Backlight 5. Beeper ON/OFF 6. Auto power off ————————————————————————————– 1. Flexible Tip The rubber tip perfectly fits in armpits.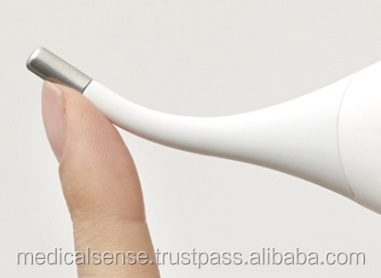 ————————————————————————————– 2. 15 seconds Prediction Measurement start after about 15 seconds, predict body temperature of 10 minutes later by manufacturer own analysis and computing technology. *If keep in armpits after the prediction measurement, 10-minuts actual measurement starts.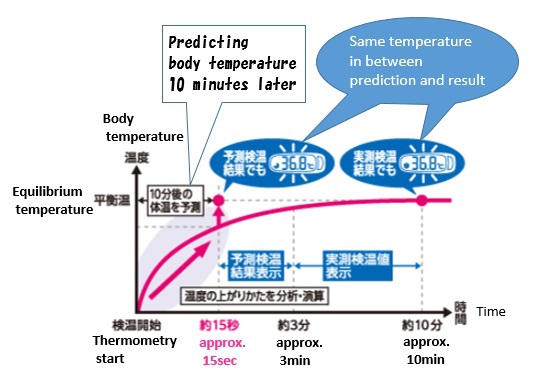 ————————————————————————————– 3. 10 times Memory Keep and display for the latest 10 times of results with the date and time. 4. Backlight The backlight turn on automatically when measurement finished.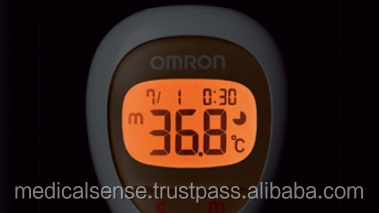 ————————————————————————————– 5. Beeper ON/OFF Make a beep when measurement finished. You can also set the function off. 6. Auto power off Even if forget to turn off the power, it will turn off automatically after 15 minutes. ————————————————————————————– Other functions and specification


Method
Prediction (15 seconds) and Actual (10 minutes)
Displaying
Celsius, Per 0.1digree
Measurement part
Armpits
Power
Button cell (lithium battery, CR2032 x 1)
Battery duration
Approx 2,200 times (Prediction)
Approx 400 times (Actual)
Weight
25 g (with battery installed, without storage case)
Size
41mm (width) x 108mm (length) x 19mm (thickness)
Accessories
Button cell for trial (lithium battery, CR2032 x 1)
Storage case
Company Information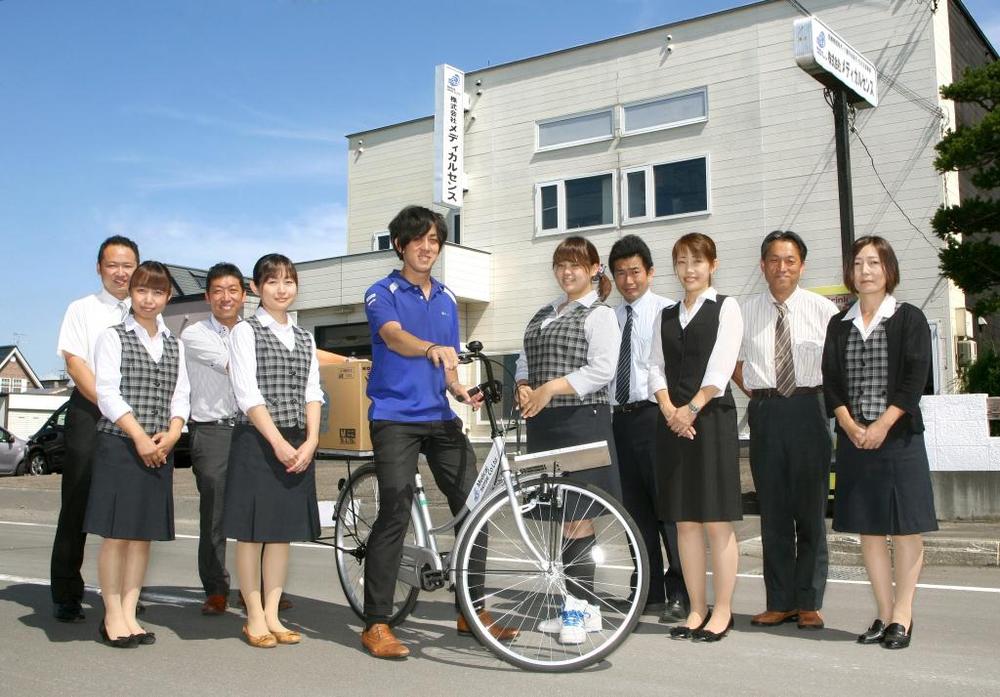 We will provide support and answer questions.
TRADE FLOW
OFFICE LOCATION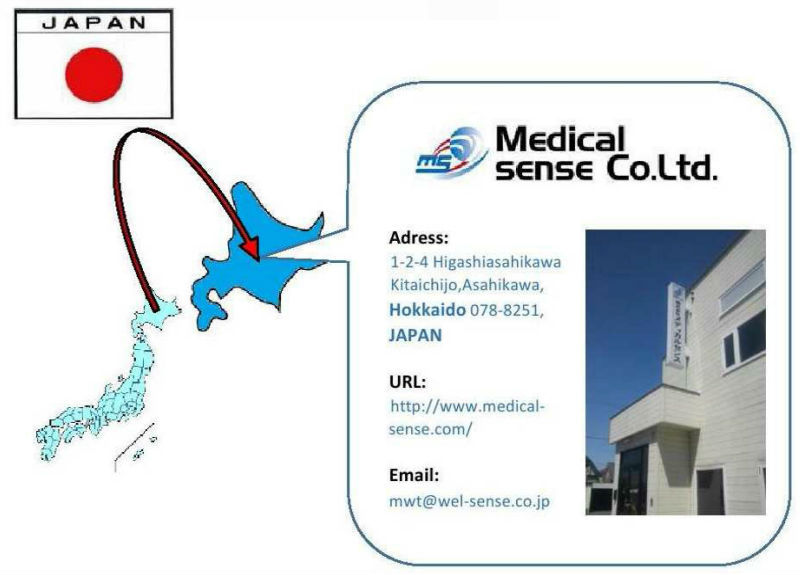 Detailed Company Introduction
COMPANY NAME: MEDICAL SENSE CO., LTD. "We are a company from Hokkaido, Japan!"
"Contributing to our customers' needs with a sense of the changing trends and environment."
CORPORATE OUTLINE:
Founded: July 30th, 1996
Primary operations:
1) Sale, rental and repair of medical equipment, assistive equipment, and scientific instruments (rental and repair limited to Japan).
2) Lease of assistive technology and preventative assistive technology, and sale of special assistive technology and special preventative assistive technology, as per the Long-Term Care Insurance Act (limited to Japan). 3) Support for newly-opening hospitals and clinics (limited to Japan).
4) Hokkaido regional agent for ""RS-BASE"" multipurpose diagnosis support software (limited to Japan).
5) Operation of online stores (wel-sense Shop on Rakuten Ichiba and wel-sense Shop on Yahoo! Shopping Japan).
6) Operation of MWT (displayed on alibaba.com)
&nb
sp; Suppliers: Medical equipment and assistive equipment companies.
Clientele: General hospitals, private hospitals, private practice clinics, nursing homes, general users.
Total of 40 facilities opened within Japan, including hospitals, clinics and nursing homes.
Overseas sales: Sold to clients in USA, Canada, China, Taiwan, South Korea, Singapore. Certifications: Authorization to sell and lease specially controlled medical devices.
Manufacturer : OMRON HEALTHCARE Co., Ltd
Text by : Medical sense Co.Ltd.